[ Scritto da Grande Inganno]
Crediamo che la versione Omicron sia stata creata nel 2019 insieme al virus SARScov2 per poter mettere fine, a comando, questa "pandemia" creata a tavolino.
Infatti come si può vedere nel grafico sotto, la variante Omicron non ha origine da nessuna delle varianti precedenti come dovrebbe essere, ma dal virus originale SARScov2 che non esiste più da 2 anni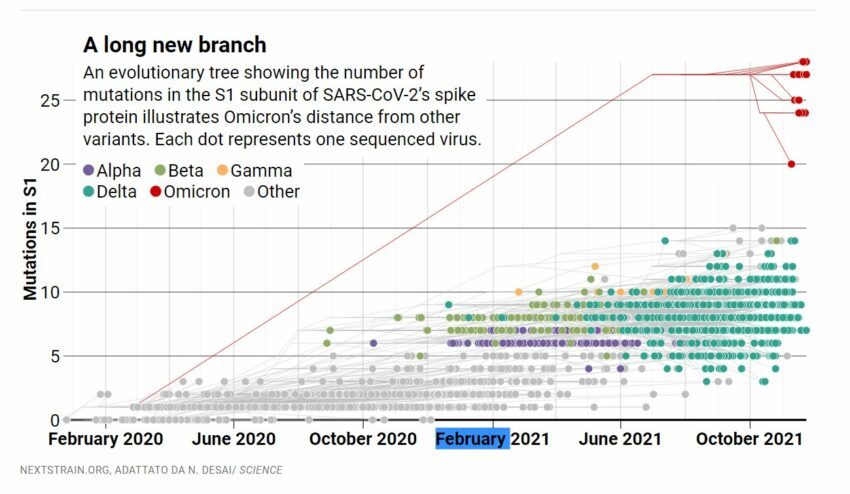 Infine ci sono le parole di Pyotr Chumakov:
«Ora è semplicemente arrivato il momento in cui, per qualche motivo politico, hanno deciso di spegnere rapidamente la pandemia».
Secondo Pyotr Chumakov, il ceppo Omicron del Coronavirus potrebbe essere stato "creato e manipolato artificialmente", una conclusione a cui l'esperto è giunto analizzando le mutazioni delle precedenti varianti. Il ceppo Omicron non solo sintetizza tutte le varianti di SARS-CoV-2 ma presenta anche un supplemento: un inserto di tre amminoacidi, che non è naturale. Il nuovo ceppo SarsCoV2 da quanto affermato dal virologo Chumakov, contiene una decine di mutazioni nella proteina Spike e sarebbe stata sviluppata in un soggetto immunocompromesso.

Secondo lo scienziato è stato così creato un ceppo indebolito, che ha la capacità di diffondersi più velocemente rispetto alla variante Delta, riuscendo ad eludere la copertura dei vaccini e determinando un quadro sintomatologico più lieve. Parlando della variante del Covid, Chumakov ha affermato: "Omicron può infettare molte persone che sono già state vaccinate. Ma la malattia ha un decorso facile per loro. Nemmeno tra i non vaccinati si registrano casi molto gravi. Ossia, pare che questo sia un ceppo che si diffonde molto rapidamente e che sia facilmente tollerato. Questo è molto positivo". Il dottor Chumakov ha ribadito la connotazione artificiale della variante del Covid che sarebbe stata manipolata in laboratorio determinando una sorta di variante impazzita ma meno virulenta.

La variante artificiale Omicron, ha una velocità che non è paragonabile a quella delle altre varianti, compresa la variante Delta e diventerà la dominante in tutto il mondo, andrà a sostituire tutte le variante precedenti, ponendo fine alla pandemia.
Bill Gates aveva già dichiarato ai media con assoluta certezza che la pandemia sarebbe terminata nel 2022 e nel 2022 esce la variante Omicron.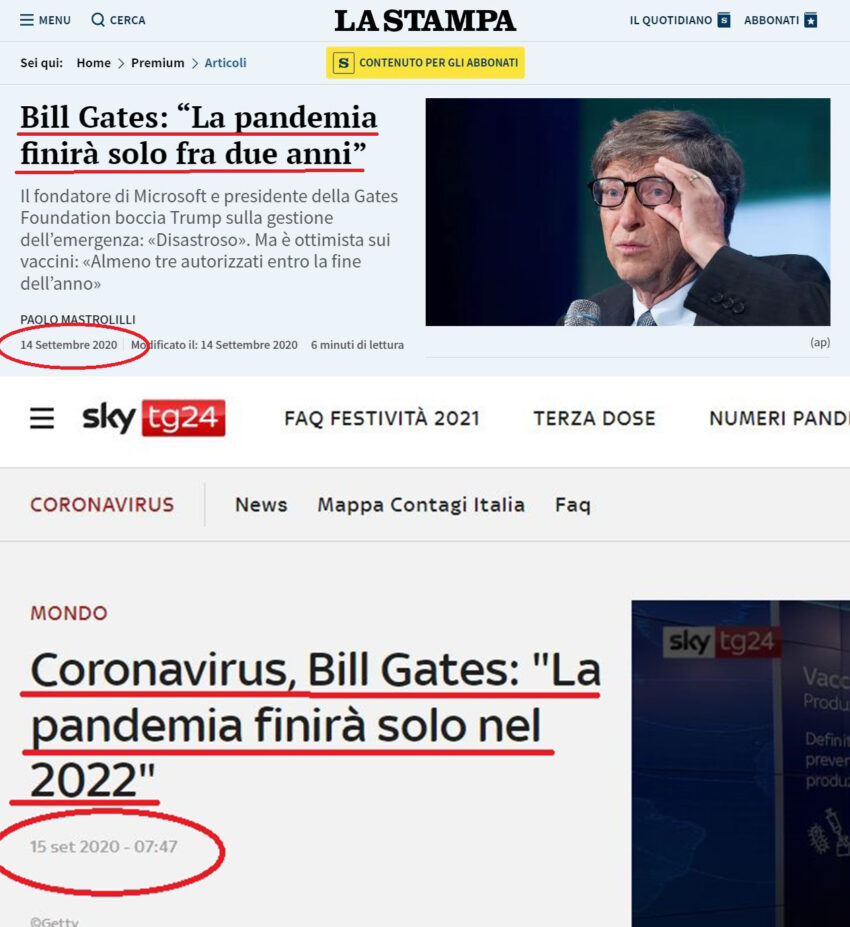 A PresaDiretta il microbiologo Ralph Baric, il maggior studioso al mondo di coronavirus, tra i più grandi esperti nella costruzione di virus sintetici, autore della famosa chimera del 2015 di cui parlò il tg Leonardo. "Nella chimera che abbiamo realizzato in America nel 2015 col virus della Sars, insieme alla professoressa Zheng-li Shi dell'Istituto di Virologia di Wuhan, avevamo lasciato delle mutazioni-firma, per cui si capiva che era frutto di ingegneria genetica. Ma, altrimenti non c'è nessun modo di distinguere un virus naturale da uno realizzato in laboratorio".
Il Pentagono ha donato 39 milioni di dollari all'EcoHealth Alliance del dottor Peter Daszak, una ONG che ha finanziato la ricerca sul coronavirus presso l'Istituto di virologia cinese di Wuhan.

I dati federali hanno rivelato che l'EcoHealth Alliance aveva anche finanziato in parte esperimenti di "guadagno di funzione". In questi esperimenti, i virus pericolosi vengono resi artificialmente più infettivi per studiarne l'effetto sulle cellule umane.  Si ritiene che questa ricerca sia il modo in cui sia nato il coronavirus di Wuhan (Covid-19).

In virologia, il guadagno di funzione (o GoF, dall'inglese gain of function) consiste nel produrre, su un organismo, delle modificazioni genetiche (chiamate anche mutazioni attivanti) in grado di determinare l'acquisizione di una nuova funzione o il potenziamento di una preesistente.

Shi Zhengli, il capo del laboratorio di virologia cinese di Wuhan, in un articolo del 2015 aveva segnalato i pericoli del loro esperimento sul guadagno di funzione di un nuovo coronavirus che potrebbe infettare le cellule umane. Il documento aveva anche riconosciuto il finanziamento del National Institutes of Health degli Stati Uniti e dell'EcoHealth Alliance di Daszak.