È il Bergoglio che non ti aspetti. Ecco Papa Francesco tra imprenditori, manager, banchieri, consulenti, funzionari pubblici. Tutte personalità, circa una settantina, di altissimo livello e di tutto il mondo, divise tra "Advisors" e "Members" (Stewards e Allies) di una (fin qui) misteriosa fondazione nata a dicembre scorso per iniziativa di una brillante signora componente della famiglia Rothschild, Lynn Forester De Rothschild, moglie di Sir Evelyn Robert de Rothschild, un finanziere britannico molto amico di Bill e Hillary Clinton.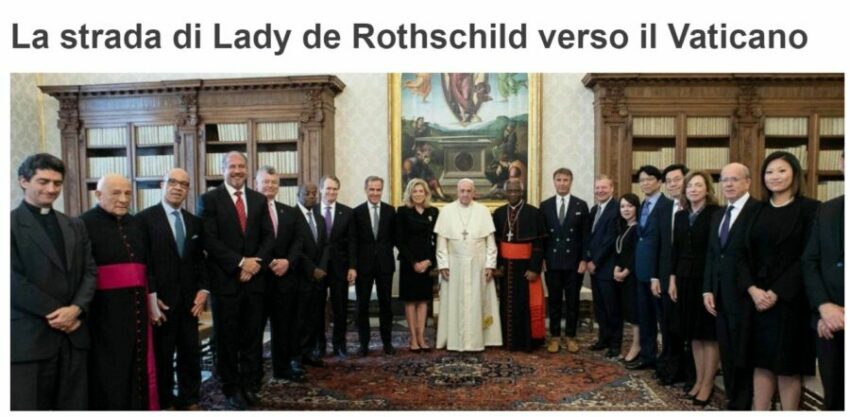 Si chiama Council for Inclusive Capitalism with the Vaticano, che discende da Coalition for Inclusive Capitalism, due organizzazioni senza scopo di lucro che sviluppano iniziative che inducano la trasformazione del capitalismo per rendere le economie e le società più inclusive, dinamiche, sostenibili e affidabili. I membri della Fondazione, che nasce sotto gli auspici della Santa Sede, hanno esplicitamente eletto Bergoglio a loro guida morale.

Membro del Partito democratico americano, socia fondatrice e amministratrice di Inclusive Capital Partners, un gestore degli investimenti per lo Spring Fund da 1,5 miliardi di dollari, che cerca rendimenti laddove una parte del valore viene utilizzato per migliorare le prestazioni ambientali e sociali delle aziende in cui si investe, nonché fino a luglio 2020 amministratore delegato del family office E.L. Rothschild LLC, Lynn Forester De Rothschild vanta rapporti solidissimi con il Vaticano, come d'altronde è sempre stato per i diversi rami dei Rothschild.