Rosso E122 ———————–
L'azorubina o E122 è un colorante alimentare sintetico di colore rossastro con striature bluastre. E' molto solubile in acqua e viene usato come eccipiente nei farmaci.
UTILIZZI NELL'INDUSTRIA ALIMENTARE
L'azorubina o carmoisina viene usata nelle bevande come il gingerino, nei budini, nelle caramelle e nelle gomme da masticare, negli yogurt, nel marzapane, nei prodotti di confetteria, nelle conserve di frutta e nei gelati.
SALUTE
Questo colorante è stato vietato in Austria, Norvegia e in Australia compare tra gli allergeni pericolosi per la salute dell'uomo, specialmente per gli intolleranti a farmaci contenenti acido acetilsalicilico (aspirina) o persone che soffrono di asma, essendo un liberatore di istamina. Inoltre tra bambini (tra i 3 anni e 8-9 anni di età) esposti a una miscela di azorubina si sono registrati casi di iperattività .
Gli studi effettuati sull'E122 non hanno comunque evidenziato effetti tossici, potenzialità cancerogene o genotossiche.
I valori consiliati da FAO e Organizzazione Mondiale della sanità sono di 4 mg al giorno per chilo di peso corporeo.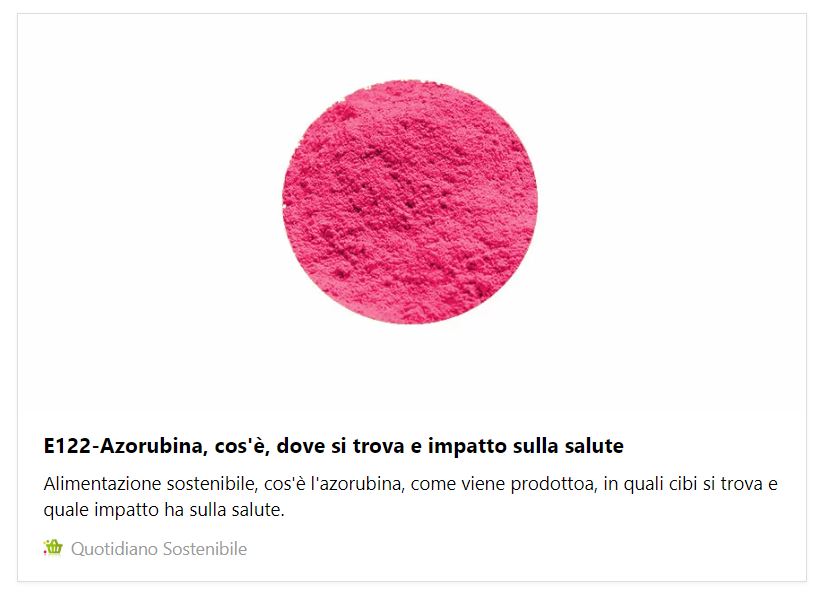 Giallo E110 —————————–
L'E110 denominato anche giallo arancio S o giallo tramonto è un colorante sintetico che conferisce una colorazione gialla ai cibi. Deriva dagli idrocarburi aromatici del petrolio.
UTILIZZI NELL'INDUSTRIA ALIMENTARE
L'E110 è impiegato nei cibi fermentati che sono sottoposti a trattamento termico. Lo si può trovare nel marzapane, nei succhi di arancia, nella marmellata di albicocca, di agrumi, nei dolci confezionati con gelatina di limone, nella crema pasticcera istantanea, nella margarina ed altri prodotti tra cui bevande dal colore giallo, verde o rosso, patatine, salse di formaggio, zuppe pronte, gelati, decorazioni per torte, sciroppi e addirittura viene usato in combinazione all'E123 per dare una colorazione marrone a cioccolato e caramello.
SALUTE
Il Giallo Arancio E110 deriva dalla sulfonazione del Sudan I, un potenziale agente cancerogeno che si trova sedimentato tra le impurità del colorante. Tale colorante può provocare allergie in persone intolleranti all'aspirina e dà origine a disturbi gastrici, vomito, eruzioni cutanee, iperattività e insonnia. Per la sicurezza alimentare si è stabilito nel 2009 la dose giornaliera consentita per il Giallo Arancio attestandola tra 0 e 2,5 mg per kg di massa corporea, estesa dall'EFSA a 4mg. Nello stesso anno una normativa ha fatto inserire in etichetta in presenza di E110 la dicitura: "può avere effetti negativi sull'attività e l'attenzione dei bambini". Il 30 giugno 2010 il Center for Science in the Public Interest ha richiesto alla Food and Drougs Administration di vietare l'uso dell'E110 poichè "i componenti sintentici non creano maggior qualità nutrizionale e sicurezza dei cibi, ma anzi provocano nei bambini iperattività e scarsa attenzione".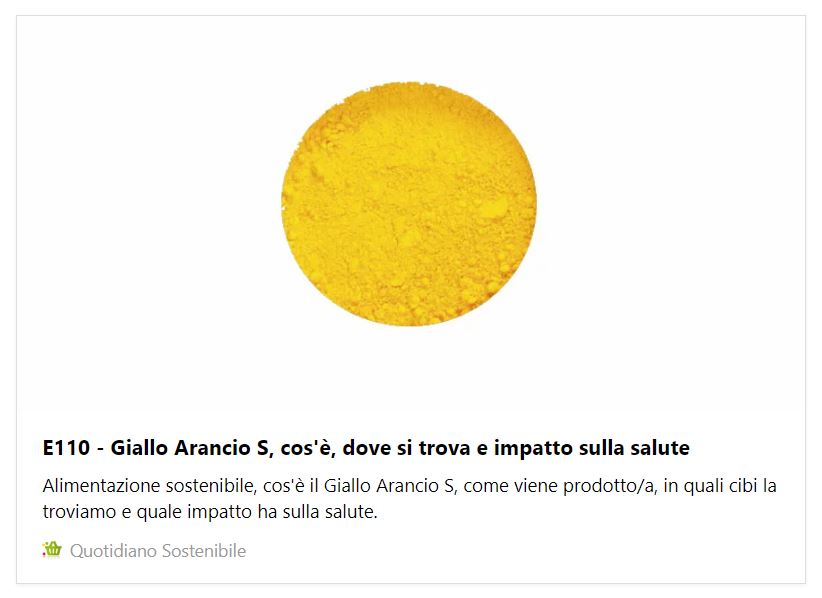 GIALLO E102 ——————————
La tartrazina (E102) è un colorante artificiale azotato di colore giallo limone.
UTILIZZI NEL'INDUSTRIA ALIMENTARE
Meno costoso del rispettivo colorante naturale, la tartrazina viene largamente utilizzata ad esempio nella produzione di marmellate, bevande gassate, minestre confezionate, gelatine, yogurt, caramelle e molti altri alimenti. Può essere utilizzata in combinazione con l'additivo E133 (Blu Brillante) per produrre alcune tonalità di verde.
SALUTE
Seppure ne sia vietato l'utilizzo in Norvegia, Austria e Finlandia, nel nostro paese è ancora consentito. Dal 20 luglio 2010 gli alimenti che ne contengono anche minime quantità devono riportare in etichetta "può influire negativamente sull'attività e l'attenzione dei bambini" poichè assieme all'acido benzoico, è ritenuto concausa dell'iperattività infantile. Nel Regno Unito diverse catene tra cui Marks and Spencer, Tesco, Sainsbury's, hanno deciso di non vendere i prodotti che contengono questo additivo. E' ritenuto causa di potenziali (e numerose) allergie ed intolleranze. Viene generalmente sconsigliato ai bambini, agli asmatici e chi presenta allergie all'acido acetilsalicilico.
Le eventuali reazioni alla tartrazina possono essere emicrania, edemi, prurito, riniti, problemi di respirazione. Il caso più noto: fino a poco tempo fa l'E102 era usato nella produzione di cedrata, ma oggi numerose marche, tra cui la piu nota Tassoni, hanno sostituito la tartrazina con  coloranti naturali.