Il Pentagono ha donato 39 milioni di dollari all'EcoHealth Alliance del dottor Peter Daszak, una ONG che ha finanziato la ricerca sul coronavirus presso l'Istituto di virologia cinese di Wuhan.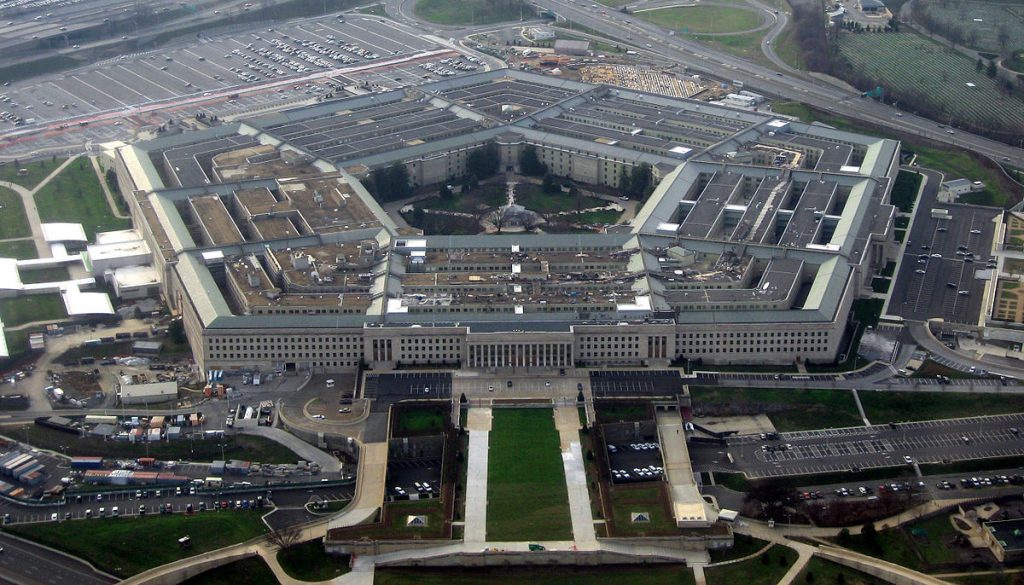 I dati federali hanno rivelato che l'EcoHealth Alliance aveva anche finanziato in parte esperimenti di "guadagno di funzione". In questi esperimenti, i virus pericolosi vengono resi artificialmente più infettivi per studiarne l'effetto sulle cellule umane.  Si ritiene che questa ricerca sia il modo in cui sia nato il coronavirus di Wuhan (Covid-19).

In virologia, il guadagno di funzione (o GoF, dall'inglese gain of function) consiste nel produrre, su un organismo, delle modificazioni genetiche (chiamate anche mutazioni attivanti) in grado di determinare l'acquisizione di una nuova funzione o il potenziamento di una preesistente.
Shi Zhengli, il capo del laboratorio di virologia cinese di Wuhan, in un articolo del 2015 aveva segnalato i pericoli del loro esperimento sul guadagno di funzione di un nuovo coronavirus che potrebbe infettare le cellule umane. Il documento aveva anche riconosciuto il finanziamento del National Institutes of Health degli Stati Uniti e dell'EcoHealth Alliance di Daszak.
All'inizio di questa settimana, una serie di e-mail al consigliere per la salute della Casa Bianca Anthony Fauci rilasciate ai media sotto una richiesta di libertà di informazione ha mostrato che Peter Daszak, lo aveva ringraziato per aver affermato pubblicamente che le prove scientifiche non supportano la teoria della fuga del virus dal laboratorio di Wuhan.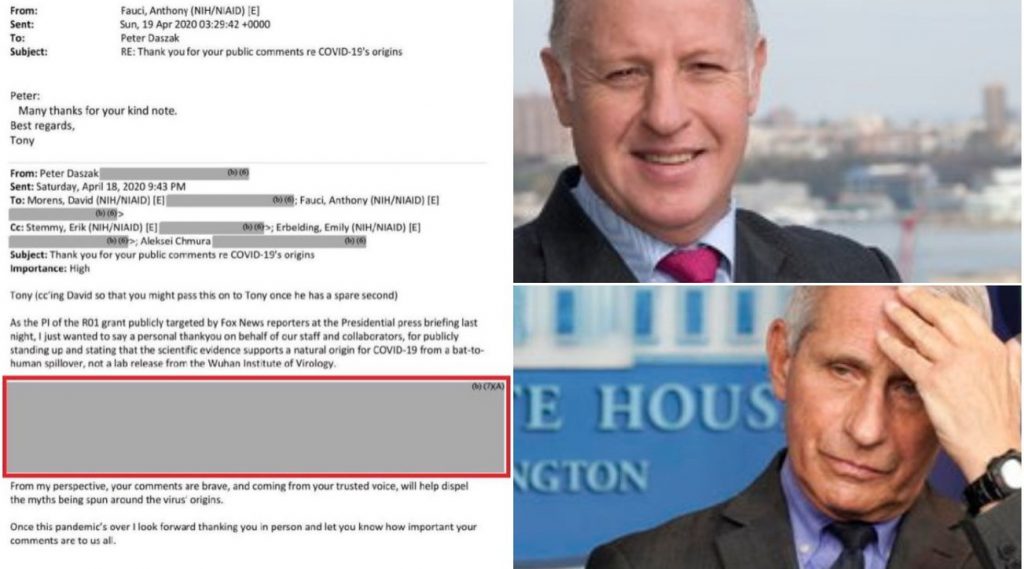 Daszak, come ricorderete, è stata una delle voci più aggressive di quelle che criticavano la teoria delle fuga dal laboratorio all'inizio della pandemia . Insieme ad Anthony Fauci e ad altri, Daszak ha spinto quasi violentemente la narrazione secondo cui il virus cinese è comparso dal nulla in un mercato del pesce di Wuhan.

Quella teoria della cospirazione è stata da allora smentita, e ora Daszak, Fauci e altri sono in prima fila mentre lottano per spiegare il loro coinvolgimento nei programmi di armi biologiche che erano, e probabilmente sono ancora, in corso sul suolo cinese con i finanziamenti del Stati Uniti.
Fauci ha contribuito a facilitare l'assegnazione di sovvenzioni governative speciali che sono state utilizzate da Daszak per modificare geneticamente i coronavirus dei pipistrelli allo scopo di trasformarli in armi. È così che il mondo è finito con l'influenza di Wuhan, che continua a essere iniettata nei corpi delle persone attraverso i "vaccini".
La palude del governo americano è più profonda e più putrida di quanto avremmo mai potuto immaginare
I rapporti suggeriscono che l'allora presidente Donald Trump, dopo aver appreso cosa stava facendo Fauci, aveva annullato una sovvenzione di 3,7 milioni di dollari lo scorso anno, che avrebbe dovuto essere consegnata a EcoHealth Alliance. Ciò è avvenuto nel periodo in cui Trump aveva iniziato a parlare della teoria sull'origine del coronavirus dal laboratorio di Wuhan (Covid-19).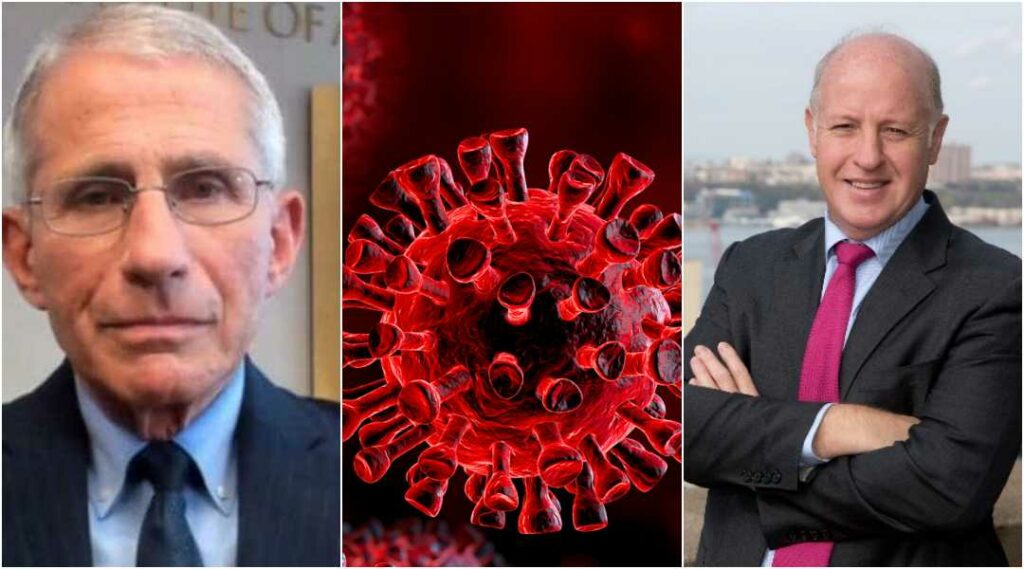 Questa è solo una goccia nel mare, tuttavia, degli oltre 123 milioni di dollari che sono stati inviati dal governo degli Stati Uniti alla Cina tra il 2017 e il 2020 – tutto durante la presidenza di Trump, per essere chiari. Il Pentagono ha anche finanziato silenziosamente l'operazione almeno dal 2013.
L'intera portata dei finanziamenti statunitensi al WIV rimane sconosciuta, ma ogni giorno si scopre di più suggerendo che i criminali all'interno del governo USA – questo include Fauci – si sono impegnati in questo comportamento traditore per anni, se non decenni .
"Le sovvenzioni del Pentagono includevano $ 6.491.025 dalla Defense Threat Reduction Agency (DTRA) dal 2017 al 2020 con la descrizione: 'Comprendere il rischio di insorgenza di malattie zoonotiche trasmesse da pipistrelli nell'Asia occidentale'", lo riporta il DailyMail Online (Regno Unito).
"La sovvenzione è stata classificata come 'ricerca scientifica – lotta alle armi di distruzione di massa'".
Il Dipartimento della Difesa (DoD) ha contribuito con la maggior parte dei suoi finanziamenti a questa operazione attraverso il DTRA, un ramo militare con la missione dichiarata di "contrastare e scoraggiare le armi di distruzione di massa e le reti di minacce improvvisate".
L'Agenzia statunitense per lo sviluppo internazionale (USAID) ha contribuito con ulteriori 64,7 milioni di dollari, mentre il Dipartimento della salute e dei servizi umani (HHS) ha contribuito con 13 milioni di dollari. Anche il Department of Homeland Security (DHS) ha contribuito con 2,3 milioni di dollari, insieme alla National Science Foundation, che ha contribuito con 2,6 milioni di dollari.
Fauci avrebbe mentito in numerose occasioni su tutto questo, sostenendo sotto giuramento davanti al Congresso che né lui né alcuno dei dipartimenti di sua competenza avevano dato denaro per il guadagno illegale di ricerca funzionale in Cina.
un commentatore del DailyMail Online ha osservato che "Obama aveva autorizzato il riavvio della ricerca sul guadagno di funzione (arma biologica del virus SARS) il 9 gennaio 2017, pochi giorni prima dell'inaugurazione di Trump, revocando l'attuale moratoria su alcune ricerche nelle scienze della vita che potevano aumentare la virulenza e/o la trasmissibilità di un patogeno e produrre un potenziale agente patogeno pandemico (un PPP potenziato)".